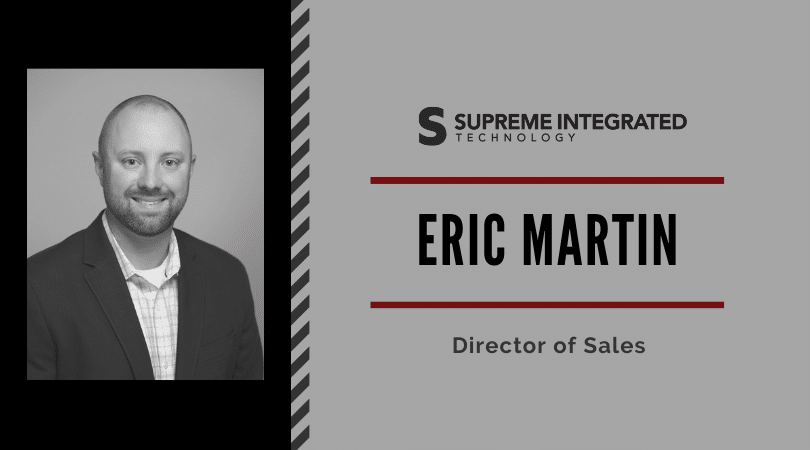 Meet our November Employee Spotlight, Eric Martin! Eric is a part of our Supreme Integrated Technology (SIT) sales team and has been with our employee-owned family for 15 years. Let us get to know him better:
What is your role? Briefly describe what you do.
"My current role is Director of Sales for SIT, and it is my responsibility to work with the SIT sales team, our vendors, sister companies, and customers to grow sales."
Who/what inspires you?
"I have many different people who inspire me for different reasons. I look at the way different people handle individual aspects of their lives, or even individual situations, and take inspiration from that."
If you had to pick one strength you bring the to team, what would it be?
"I think that my systems level project background at the distribution level, and bi-directional perspective, will be beneficial. I am now seeing on the other side of the proverbial curtain, so having visibility from both angles will help understand and overcome the existing barriers to business growth."
What do you like to do in your free time?
"I help coach my son's select baseball team, and my daughter does competitive dance. When there are off weekends from those activities, I love to play golf."
If I could learn how to do one thing, what would it be?
"Play the piano. It is something I have always wanted to learn, but have never made the time."
Where were you born?
Huntsville, TX
What's the best thing about your job?
"The best thing about my current role is the ability to influence. There are parts of being in sales that were great for sure; but having a voice, being able to provide input to leadership, and to have an impact on the direction in which the company migrates is very cool."
What's been one of your proudest moments at EOHI?
"One of my proudest moments at EOHI was when I hit the $25M sales mark. I remember when $8-9M in a year was a crazy number, so hitting $25M was something I was really proud of."
How do you define success?
"This is a question that should be answered sitting on a bar stool, not in a company wide email. I look at success as list of categories, and achieving the highest possible level of success in one area likely means I will be lacking in another. Life is a balance. So I define success as function of effort and balance. If I put forth maximum effort, and balance the areas of focus to the best of my ability, then it's a success."
Where is your favorite place that you've traveled?
"I love the Black hills area of South Dakota, because it is very unique and I spent a lot of time there as a kid. Lake Tahoe and Grand Tetons would be high on the list also."