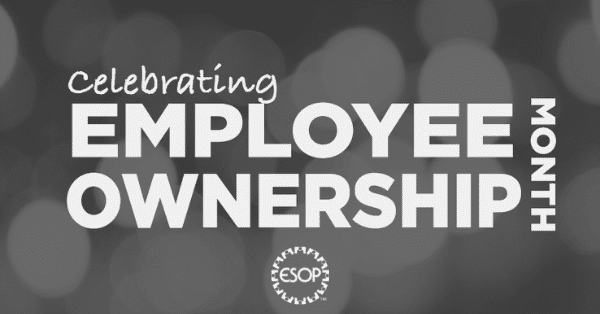 For almost 20 years, The ESOP Association and its member companies have been celebrating Employee Ownership Month every October. It is a celebration of the incredible spirit of employee ownership and an opportunity to educate employee owners about the tremendous benefits of employee stock ownership plans (ESOPs)
What exactly does it mean to be an ESOP?
ESOP = Employee Stock Ownership Plan
Tax qualified employee benefit plan governed by the same federal regulations (ERISA) as any other qualifying retirement plan (Ex. 401(k), IRA)
The ESOP only acquires shares of the company's stock
These retirement accounts grow through the employee's sweat equity (at no extra cost to employees)
What is the purpose of an ESOP?
Retirement benefit for employees
Participants share in the rewards & responsibilities of ownership
Tax savings for the company
During ESOP awareness month in October, we are taking time to recognize outstanding work from our employee owners for the following:
Becoming 100% vested in their ESOP after successfully working with the company for 6 years.
Achieving top Sales.
EOH Values award winners. Employees went above and beyond in these five (5) areas to make a positive impact at the company and were nominated by their peers.

Acts with Integrity – making decisions in the best interest of the company, taking time to consider the "right thing to do" and treating others with respect.

Laser Customer Focus – proactively assessing customers' needs, under-promising & over-delivering on commitments and going above & beyond to provide both internal & external customers with the highest level of service.

Work Smart – assessing every situation to ensure the safety of employee owners, confirming highest quality product is delivered to the customer in the most efficient manner.

Always Seeking Improvement – bias for action, using company resources to grow return on investment, with backbone to identify the right course for the business.

Produce Results – focusing on key outputs for department/business by critically considering right priorities, fighting through setbacks and rising to the occasion to provide a successful outcome.
As an ESOP company, we, the employees, "own" the business. Each person has a stake in the outcome of "our" company. We move together as a team, so we all have a vested interest in the growth and continued success of our customers and our company. Congratulations to all our award winners!