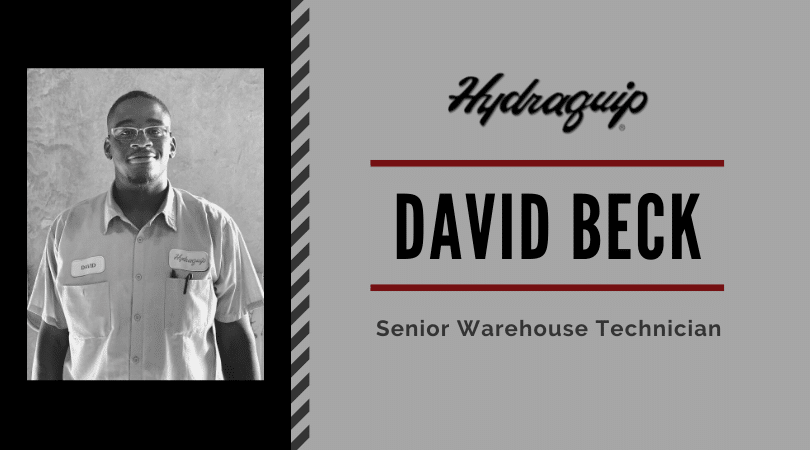 Meet our June Employee Spotlight, David Beck! David has been a valuable team member with Hydraquip for 8 years now. He plays a huge role in our shipping and receiving department as our Senior Warehouse Technician. Let us get to know him better:
What is your role? Briefly describe what you do.
"I am the Senior Warehouse Technician. I assist and train level 1 and 2 techs with stocking, shipping, and receiving in the warehouse.
Where were you born?
Houston, TX
Who/what inspires you?
"My Kids. They motivate me to try my best and give it my all for a better living."
If you had to pick one strength you bring the to team, what would it be?
"Being a people person really helps me be success at this job. This strength allows me to get along with everyone."
What do you like to do in your free time?
"Ienjoy playing basketball and jujutsu. Not many people know about jujutsu, but it is a form of martial arts. I recently took my son to one of his jujutsu matches for the first time and was excited to get to share this passion with him."
If I could learn how to do one thing, what would it be?
"I think it would be really cool to learn Spanish."
What's the best thing about your job?
"The best part about working in the warehouse is that I get to work in a laid back environment and have flexibility to get the job done."
What's been one of your proudest moments at EOHI?
"My proudest moment was when I received employee of the month within the first year of working for Hydraquip. Receiving this award so early on in my career here made me feel valued and appreciated. It motivated me to continue to grow in this field."
How do you define success?
"To me, success means being able to provide for my family. If I can do that, I am successful. I want to put my kids in the best position."
Where is your favorite place that you've traveled?
"I enjoyed traveling to Honduras because of the beautiful scenery, beaches, and great food."