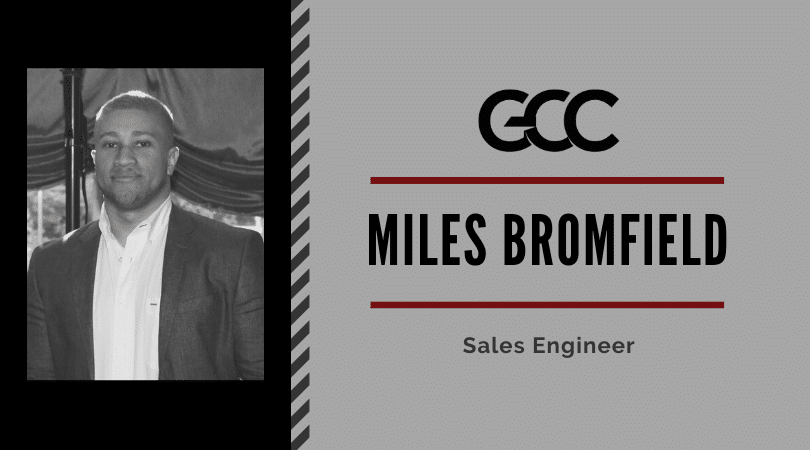 Meet our July Employee Spotlight, Miles Bromfield! Miles has been a valuable sales engineer with our GCC location in Kent, WA for 6 months now. He has hit his Signature (customer service) goals each month and is training to become a territory manager. Let us get to know him better:
What is your role? Briefly describe what you do.
"I'm a sales engineer for GCC Kent northwest. I'm a territory manager-in-training. I'm responsible for growing sales within that territory and managing any projects relating to customers, whether they're mobile or industrial."
Where were you born?
"I was born in Long Island, New York in a small town called Bay Shore. I lived there until I was 18, went to school in Maryland, and left there when I was 23."
Who/what inspires you?
"I would say my future children; I want to be someone they can rely on. I want to be the person they look up to and leave a legacy they can be proud of."
If you had to pick one strength you bring to the team, what would it be?
"My desire to win. I played sports for a long time and hate losing, so I think having that desire to win helps our team with opportunities."
What do you like to do in your free time?
"I try to stay active as much as possible through soccer, working out, golfing, kayaking, and walking with my dog, Tyrion. I also like binge-watching Netflix shows including Breaking Bad and Game of Thrones."
If I could learn how to do one thing, what would it be?
"It would probably be learning to code, which is something I didn't get around to in the pandemic. I learned a bit in college and never kept up with it. The things you can do with coding are pretty cool, and it makes things easier if you know how to do it."
What's the best thing about your job?
"The best part is getting to see some cool applications. I recently went to Nucor Steel and saw them melt metal at high temperatures, causing a massive explosion that was fun to watch."
What's been one of your proudest moments at EOHI?
"Back in March, we were trying to get this account, one of our vendor Rexroth's target 48 (48 accounts that they 100% want to do business with). I went to go visit the account and I got it on my first try. They had broken pumps and wanted to do business with us to fix them."
How do you define success?
"Success is really dependent on the situation. I'm all about the small victories; whatever win you can get is a success in my book. Its all about the small victories building up to a successful story."
Where is your favorite place that you've traveled?
"I've been all over the U.S., Mexico, Caribbean, etc. I haven't been to Europe or Asia, but they are on my list. Probably out of places I've been to, the Caribbean has been my favorite. The vibes are unreal, and nothing beats sitting on the beach with a mojito, snorkeling and all that stuff."