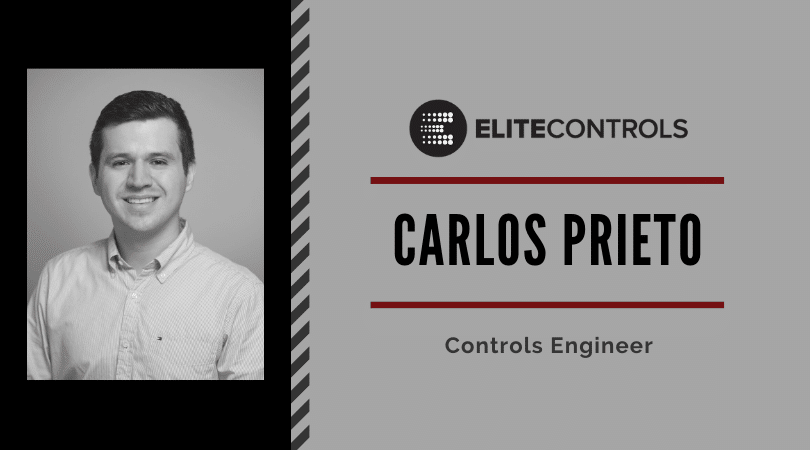 What is your role? Briefly describe what you do.
"I'm a Controls Engineer at Elite Controls. My role is designing control systems to give our customers solutions for their applications. I support our panel shop and sales as well."
Who/what inspires you?
"I would say my family and my wife inspire me to be the best version of myself every day."
If you had to pick one strength you bring the to team, what would it be?
"I'm a dynamic and detail-oriented person. Being detail-oriented helps create a solution that will satisfy the company and make a quality product. Being dynamic allows me to keep working on something I don't like until it is fixed properly."
What do you like to do in your free time?
"I like to play tennis, hang out with friends, go to movies, and travel."
If I could learn how to do one thing, what would it be?
"I would like to learn to fly, just for hobby. I think it would be very cool."
Where were you born?
"I was born in Sonora, Mexico, which is a state of Mexico. Most of my life I lived in Monterrey, Mexico.Throughout elementary school I was in about 4 different cities and schools. We moved around a lot. After college in Monterrey, I moved to Houston."
What's the best thing about your job?
"I enjoy having the opportunity to work on different applications. Every application we design is different which keeps us creative and motivated. We get to know different brands and work on something new every day. It is cool to see every stage of the application from design to installation."
What's been one of your proudest moments at EOHI?
"Completing ECI's biggest project to date has been my proudest moment with EOHI. The project was a big control system for an oil & gas application. This was one of the most complex systems we've ever made which took six months from start to finish. Seeing the project run smoothly and a satisfied customer made me very proud."
How do you define success?
"I think success is being able to enjoy what you do for a living. It is rewarding to actually enjoy the things that you are good at."
Where is your favorite place that you've traveled?
"This is a difficult question because every year it changes. I would have to say a Caribbean beach is the best place to travel because you get to relax."