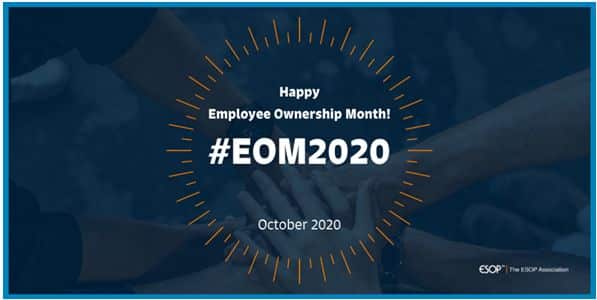 As employee owners, our employees have a special appreciation for the month of October as it is a time to celebrate and recognize being an Employee Stock Ownership Plan (ESOP) company. An ESOP is a tax-qualified retirement plan authorized and supported by federal tax and pension laws. The company creates a trust that purchases shares of the company's stock and holds these shares in retirement accounts for the employees. Unlike 401(k)s, ESOP requires no out of pocket contribution from employees for the retirement accounts to increase.
An ESOP is more than just a retirement plan. It provides many other benefits internally – Because we, the employees, take ownership in the company, our employees strive to go above and beyond to contribute to the success of our companies. With this mindset, ESOPs motivate employees, increase productivity, enhance retention, while at excelling in providing employee training which contributes to business health and longevity.
At our EOHI families, we strive to live by our Five Company Values – Acts with Integrity, Laser Customer Focus, Work Smart, Always Seeking Improvement, and Produce Results. Our employees nominated their fellow colleagues demonstrating dedication to these values. We'd like to recognize and congratulate all the award recipients for 2020 noted below for their hard work!
GCC:
Nathan Elliott – Produces Results
Eric Alonso – Always Seeks Improvement
Jim George – Works Smart
Don Overton – Laser Customer Focus
Nolan Jones – Acts with Integrity
Adam Rowe – Laser Customer Focus
Hydraquip, Inc.:
Brandon Burrier – Produces Results
Adrian Vasquez – Acts with Integrity
Cody Lavergne – Laser Customer Focus
Kyle Raska – Laser Customer Focus
Russell Bailey – Works Smart
Employee Owned Holdings, Inc.:
Diane Munoz – Produces Results
Jamie Culpepper – Works Smart
Supreme Integrated Technology, Inc.:
Alik List – Works Smart
Courtney Ginsel – Produces Results
Grant Baudoin – Laser Customer Focus
Sandra Blanchard – Acts with Integrity
Tiffany Dorman – Outstanding Team Player
Patrick Cotton – Works Smart
Chris Plake – Always Seeks Improvement
Elite Controls, Inc.:
Baldemar Nava – Laser Customer Focus
Carlos Prieto – Produces Results
David Cadena – Produces Results