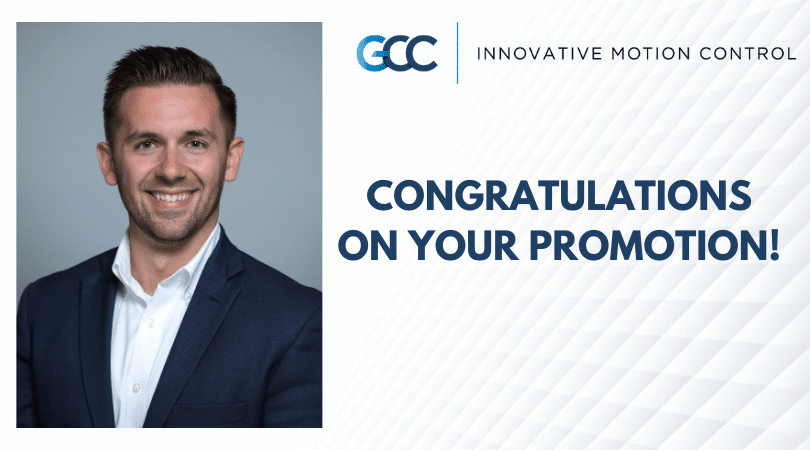 Tampa, FL – October 13, 2020: Today, GCC announced the promotion of Jordan Pritt as its Vice President of Sales, with responsibility for sales throughout North America. Over the past six years at the company, Jordan has made significant contributions to the growth of GCC, starting with his role as a territory manager before later moving into sales leadership with rapidly growing responsibilities.
Jordan began his tenure at GCC with hydraulic experience from his background in the power generation industry where he served as a project manager for gas turbine installations. GCC introduced Jordan to a sales role, where his professionalism, technical capability, project management and competitive spirit led him to quick success as a territory manager. Jordan saw significant growth in his key accounts and with acquisition of new business for the company.
In 2016, Jordan was promoted to a district manager position and his first leadership role with the company, where he quickly demonstrated his ability to lead and motivate sales teams. In April 2018, Jordan transitioned to becoming the sales manager for the company, with responsibility for all Florida sales. Over the next two years, Jordan developed his sales team, focused on finding new accounts, successfully executed large customer projects and grew the existing business within GCC's large OEM accounts. Jordan also provided a critical role in helping foster the new sales talent for GCC through his mentorship of interns, sales development reps and new territory managers.
With this new role as Vice President of Sales, Jordan's responsibility is expanding to include the Company's sales in Washington and Oregon. In late 2018, GCC acquired the assets of Valin Fluid Power in the Pacific North West. Since then, the company has been working to expand its presence and serve more customers. Working alongside the general manager for the region, Branko Horvat, Jordan will work with the sales team in the Pacific North West to help find new opportunities and create value for current clients.
"I am so proud to have Jordan as a key, first-class member of our team at GCC," says Rod Longnecker, President of GCC. "The leadership, technical ability and positive attitude he brings, both to the company and to our customers, is second to none. The impact that he's had on our business during his time with the company has been outstanding."
"I've had the pleasure of becoming acquainted with Jordan over his six years with GCC," says Richard Neels, CEO & President of Employee Owned Holdings, Inc. "I am continually impressed by his professionalism, knowledge of the business and commitment to our customers. We are sincerely thankful to have him working at our employee-owned company."
Said Jordan Pritt of this opportunity: "This is a wonderful circumstance, but I am mostly looking forward to seeing how I can best help this company to succeed."
GCC has the knowledge in hydraulics, pneumatics, fluid conveyance and automation to provide world class products and complete fluid power systems to its customers. GCC is part of EOHI, a 100% employee owned company based in Houston, Texas, who is also the parent of Hydraquip, Inc., Supreme Integrated Technology, Inc., and Elite Controls, Inc.