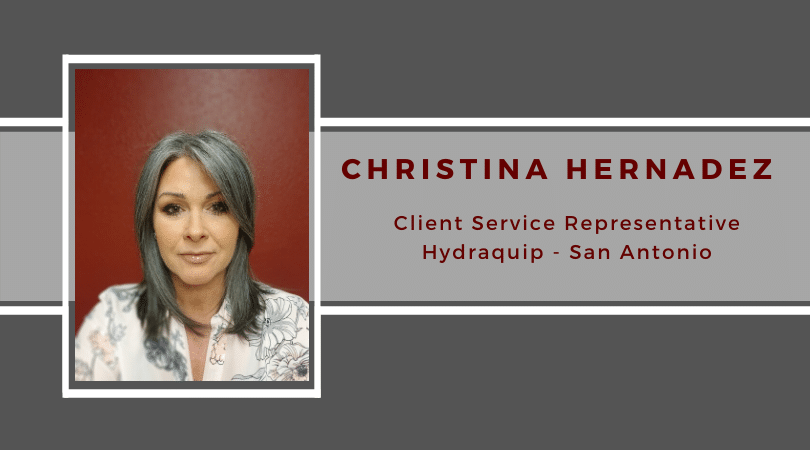 Our employee spotlight series is back! This month, we've chosen to highlight Christina Hernandez, our Client Service Representative for Hydraquip at our San Antonio office. We sat down with Christina to get to know her better and learn why she loves being a part of our EOHI family.
What is your role? Briefly describe what you do.
"I am a client service representative in inside sales at our San Antonio office. My day consists of receiving orders from customers, shipping out orders to customers, communicating with customers via phone and email to answer any questions relating to orders and deliveries, and promoting products to all customer inquiries."
Who/what inspires you?
"My mom is my biggest inspiration. She is the strongest person I know. She's 64 and struggling with various health issues, yet she is still working. On top of working, she provides for our family and cares for her 15-acre farm. She has raised my sister's daughter who has struggled with mental health issues. My mom constantly keeps on going and always puts her family before others."
If you had to pick one strength you bring to the team, what would it be?
Christina's Branch Manager, Wade Lowe said, "Christina is the most reliable person I have worked with. She remains consistent and is involved with everything that we do in outside sales."
What do you like to do in your free time?
"When I'm not working, I enjoy hanging out with my family. My husband and I love grabbing a craft beer, decorating the house or working in the yard. We also love getting to spend time with our two daughters."
If you could learn how to do one thing, what would it be?
"If I could go back in time and do it differently, it would be pursuing a career in nursing. My mom has been a nurse and I love seeing her getting to help so many people. It would be cool to get to study that field so that I could help inspire others in the way that my mom has."
Where were you born?
"I was born in Kansas City, Missouri. I have been in San Antonio since 2011, but prior to that I lived in New Mexico, Florida and Colorado. Out of all these places, New Mexico and Colorado were my favorites."
What's the best thing about your job?
"I love how small and intimate our office is. There are only 3 of us working here so we can build close relationships with one another that lead to more success. Our office has a mom and pop feel that makes it enjoyable to come in every day."
How do you define success?
"In my opinion, success is not defined by material things like money. It is defined by happiness- how happy you are doing what you love with the people you're with."
Where is your favorite place that you've traveled to?
"I think the coolest place I've traveled to is Moab, Utah. While vacationing there, we went on a river rafting excursion, a Hummer tour on the cliffs and ATV tours throughout the mountains. Utah is a very pretty place with a lot of fun outdoor activities to partake in."