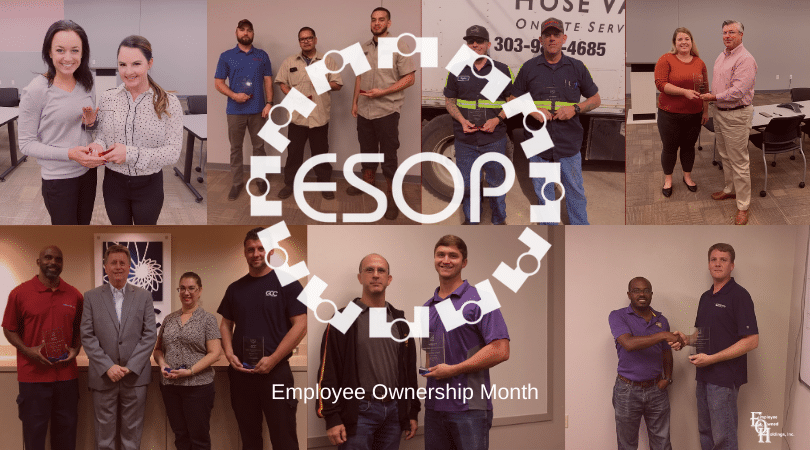 The month of October is identified as a time to celebrate the incredible spirit of employee ownership, recognize those who have gone above and beyond in the contributions to this company, and educate our fantastic employees about the future of our employee owned company.
At EOHI we strive to live by our company values – Acts with Integrity, Laser Customer Focus, Work Smart, Always Seeking Improvement, and Produce Results. This month, we honored several different employee owners who exhibit these values throughout our business. We use these values to focus on how we work together as employee owners for our company's growth and sustainability.
For example, Amy Vick, Accounting Associate at EOHI, was recognized at EOHI for her laser customer focus. We asked Amy why she loves working at an ESOP company where she responded, "I appreciate working for such a great company where my input is valued and respected. I have vested interest in the success of our company and work hard to ensure I am doing my part to help the company prosper."
It all begins with our Employee Stock Ownership Plan (ESOP). It is a unique retirement program where the employees receive stock in the company over time. As the company grows, so does the retirement accounts of our great employees.
Our employees take pride in the ESOP program for many reasons. Here are just a few benefits for being an ESOP company:
ESOP companies pay wages that are 5-12% higher than non-ESOP companies in the same industry.
Retirement account balances are 2.5 times higher.
ESOP companies grow 2.5 times faster than those companies without employee ownership.
Employee-owned companies are superior in performance, employee benefits and employee motivation.
As an ESOP company, the employees "own" the business. Each person has a stake in the outcome of "our" company. We move together as a team, so we all have a vested interest in the growth and success of our customers and our company.