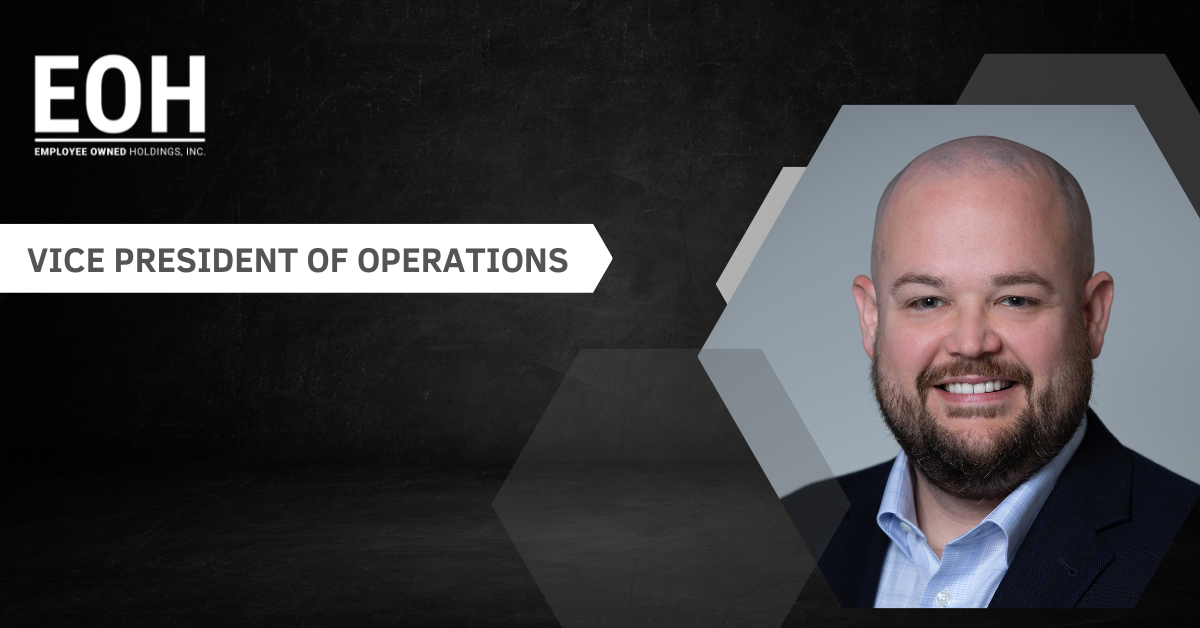 HOUSTON, TX – June 28, 2023, Employee Owned Holdings, Inc. (EOH) today announced the advancement of Bobby Schaible to be named the company's new Vice President of Operations. Bobby was previously serving as Vice President of Operations for one of the EOH subsidiaries, Hydraquip, Inc. In his new role, Bobby will report directly to the President of EOH, Richard Neels.
Bobby began working for the company over 15 years ago, beginning in Inside Sales. Bobby later transitioned to working in a purchasing role before later being named as Hydraquip, Inc.'s Purchasing Manager in 2014. Shortly afterwards, Bobby was promoted to be the Operations Manager of Hydraquip's headquarters in Houston, Texas and in 2022 was promoted to VP of Operations for Hydraquip, Inc., with responsibility for operations at all Hydraquip locations.
Before joining the company, Bobby graduated from Texas A&M with a bachelor's degree in industrial distribution. Bobby later earned his MBA from Syracuse University with a focus on supply chain analytics and business operations in 2020. His focus for improving efficiencies and streamlining processes can be seen in the assistance he provided in building and launching Hydraquip's eCommerce platform and in providing structure for inventory, operations & HSE at all Hydraquip locations – overall Bobby has made a profound, positive impact at the company.
"I look forward to working more closely with Bobby and seeing his expertise used to optimize our inventory, drive safety awareness throughout all of the EOH entities and streamline our operations to drive efficiency and profitability in our business," stated Richard Neels, President of EOH. "Bobby demonstrates the employee-ownership mentality to tackle new challenges and accomplish successful change at our company."
"I have enjoyed being a part of the executive team at Hydraquip, and now I look forward to building productive relationships with the other company subsidiaries, GCC and SIT," stated Bobby. "I am passionate about achieving success for our employee-owned company and I am excited to influence positive change in this new role."
EOHI is a 100% employee owned company based in Houston, Texas and the parent of Hydraquip, Inc., Supreme Integrated Technology, Inc., and GCC, collectively doing business primarily in Texas, Oklahoma, Louisiana, Florida, Washington, Oregon, Colorado, Tennessee, Arizona & New Mexico.