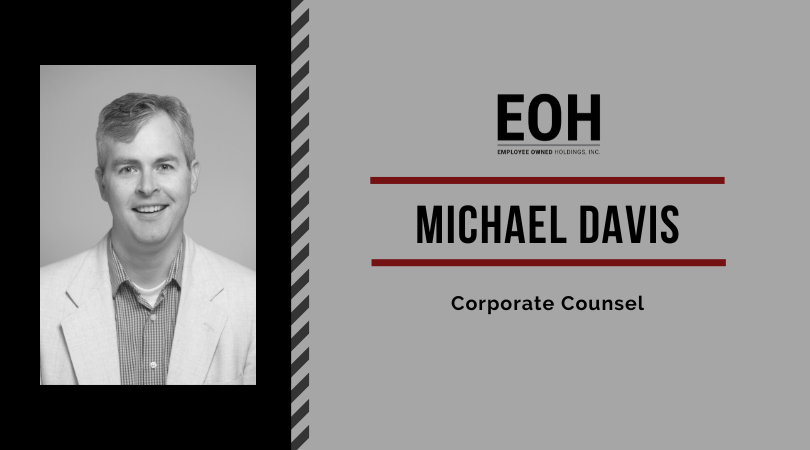 Meet our June 2023 Employee Spotlight! Michael is a part of our EOH team in Houston, TX. Let's get to know him better:
What is your role? Briefly describe what you do.
"As the attorney for the company I try to address any and all legal issues. So I am involved with compliance, with contracts, and with over a hundred other things (HR, acquisitions, Intellectual Property efforts, litigation, etc.)"
Who/what inspires you?
"I would say my family and my faith inspire me. My favorite novel is Les Miserables – it inspires me with Victor Hugo's themes of redemption, charity, and love."
If you had to pick one strength you bring the to team, what would it be?
"I have so many to choose from this is hard decision [sarcasm]… maybe my speed reading skills."
What do you like to do in your free time?
"Family trips – especially to Disney properties for some reason…"
If I could learn how to do one thing, what would it be?
"Telekinesis I guess – it be pretty useful…"
Where were you born?
"In a hospital  –  and it was located in Murray, UT."
What's the best thing about your job?
"The great people I work with! And a great sense of accomplishment when I see where much effort is fully realized in something positive for the company."
What's been one of your proudest moments at EOHI?
"I really enjoy the "Bring your kids to work day" – and getting to impress them with the great works this company does!"
How do you define success?
"Usually I would default to using the Webster's dictionary definition – but here I say: 'positive achievement.'"
Where is your favorite place that you've traveled?
"There are several places in the Caribbean that are fantastic – but my island will always be Jamaica."