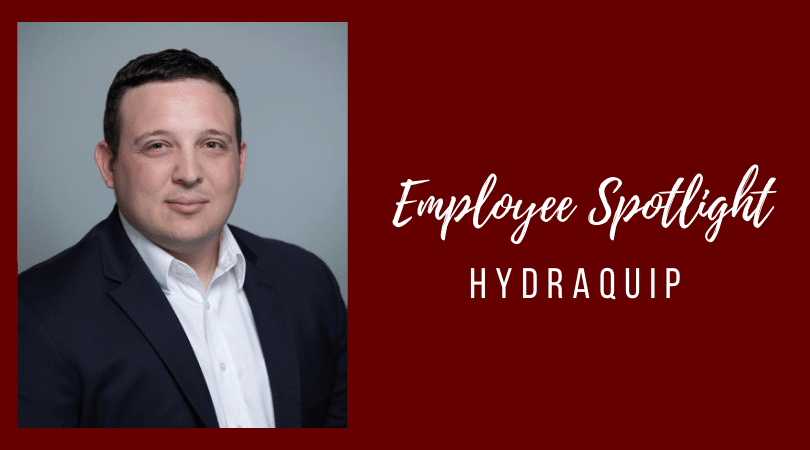 This summer, we had the pleasure of hosting Katy Hoefer as our intern at our facility in Houston, Texas. Katy is studying Industrial Distribution at Texas A&M University. Throughout her internship, she experienced what it is like to work at our employee owned company and has looked up to our Account Manager, Geoffrey Hartnup. Geoff has been readily available to guide and help Katy explore all things hydraulics. Katy sat down with Geoff to get to know him better to understand how he got to where he is now in his career.
What is your role on a day-to-day basis?
"I am an Account Manager for territories in Houston and east Texas. My day to day activities consist of calling on customers, finding new customers, technical support, providing quotes and specifications for products and teaching younger employees the ins and outs of the business."
When did you join Hydraquip?
"I have been here for 6 years. I started in June of 2014."
How have you grown within the company?
"I was lucky enough to intern with Hydraquip for two summers. After I graduated college, I joined the team as an Inside Salesman. From there, I moved into my current position as an Account Manager."
Why did you go into this field?
"In college I wasn't sure if I wanted to go into business or engineering. I chose this field because it allowed me to experience the best of both worlds. I enjoy the business side by doing sales and communicating with customers, while on the engineering end I get to draw schematics, design systems and complete calculations for these designs."
What is your favorite thing about your job?
"I enjoy the company culture, being a part of an ESOP company where I am an employee owner and the fact that my job is always bringing new challenges."
Where do you see yourself next?
"I really enjoy my job and would like to continue my role as an Account Manager for a while. Eventually, my goal is to transition to a management position."