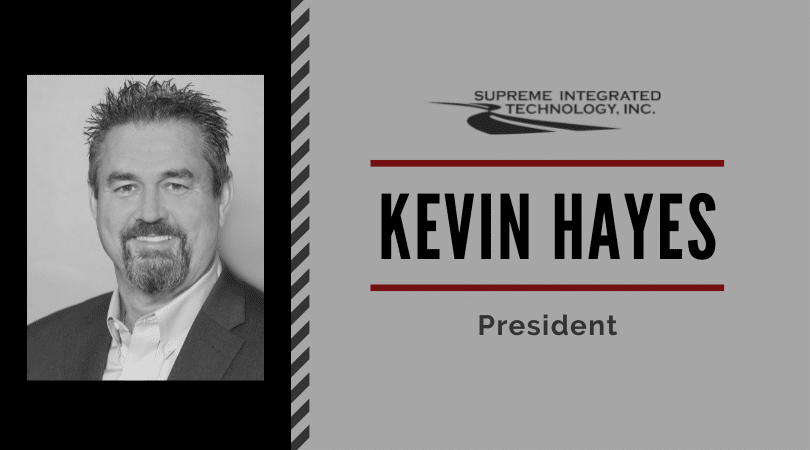 Meet our May Employee Spotlight, Kevin Hayes! Kevin has been a part of our employee-owned family for 13 years. He is responsible for starting Supreme Integrated Technology from the ground up. Let us get to know him better:
What is your role? Briefly describe what you do.
"I am the President of Supreme Integrated Technology. This job comes with many tasks, but I operate SIT and oversee all the functions of the company."
Who/what inspires you?
"First and foremost, The Lord is my biggest inspiration. My internal drive to be successful also inspires me every day."
If you had to pick one strength you bring the to team, what would it be?
"Having a positive, resilient attitude is my biggest strength. Work can be challenging so you have to keep trying and never give up."
What do you like to do in your free time?
"I enjoy playing video games, riding my motorcycle, and traveling. I've been riding my Harley Road Glide for four years now."
If I could learn how to do one thing, what would it be?
"Believe it or not, I would love to learn how to dance. Unfortunately, I have no rhythm so learning any kind of dance would be great."
Where were you born?
"I was born in Lafayette, LA. I have been in Louisiana my entire life but moved to New Orleans in 1992."
What's the best thing about your job?
"The best thing about my job is working with all our incredible employees. I also enjoy getting to work on such complex and challenging projects every day."
What's been one of your proudest moments at EOHI?
"My proudest moment has been starting up SIT from scratch. At the time, our EOHI family did not have the engineering and system side so it was cool to add this aspect to our family. We started from nothing with only three employees, and it has been amazing to be here through it all and see how far we've come since then."
How do you define success?
"I see success as the ability to adapt to change and adjust to what life deals you."
Where is your favorite place that you've traveled?
"Having the opportunity to travel to Italy has been my favorite travel experience. I visited Rome, Positano, and Capri. The Ruins in Rome was one of the coolest experiences of this trip.