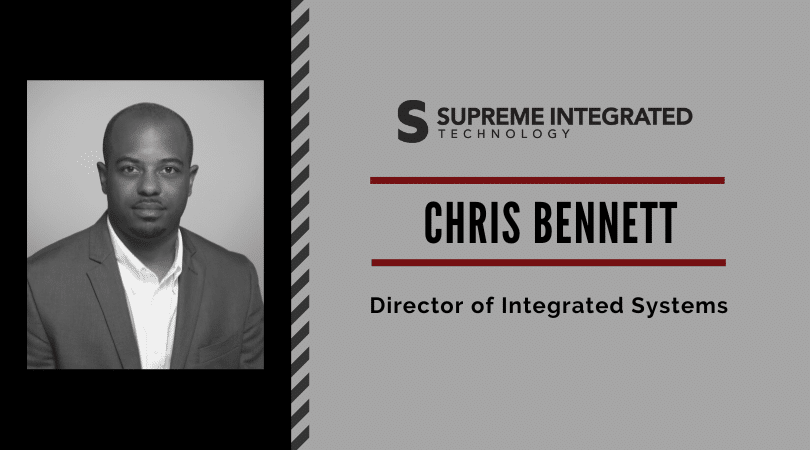 Meet our June Employee Spotlight, Chris Bennett! Chris is a valuable team member at our Supreme Integrated Technology branch in Harahan, LA. Let us get to know him better:
What is your role? Briefly describe what you do.
"I was recently promoted to Director of Integrated Systems (formerly Systems Integration Manager). I mentor/manage a team of engineers and assist with integration of projects in the Harahan office."
Who/what inspires you?
"My dad inspires me. He always told me 'Do your best at whatever you do even if it's sweeping the floors'".
If you had to pick one strength you bring the to team, what would it be?
"One strength I bring to the team is my broad knowledge of the technical disciplines (mechanical, hydraulic, electrical) to be able to integrate the systems we provide."
What do you like to do in your free time?
"Participate in anything aviation related."
If I could learn how to do one thing, what would it be?
"I would love to learn how to speak another language (probably Spanish)."
Where were you born?
"I was born in Marrero, Louisiana."
What's the best thing about your job?
"Interacting with the other engineers and seeing projects going from sketches to functional systems is the best thing about my job."
What's been one of your proudest moments at EOHI?
"Being promoted to Director of Integrated Systems. This promotion shows that I'm moving in the right direction and continuing to grow in my career."
How do you define success?
"I define success on how happy myself and family are. If we are happy then I'm successful at life in general."
Where is your favorite place that you've traveled?
"Singapore was my favorite place I traveled. It was cool seeing the buildings and cultural sights."