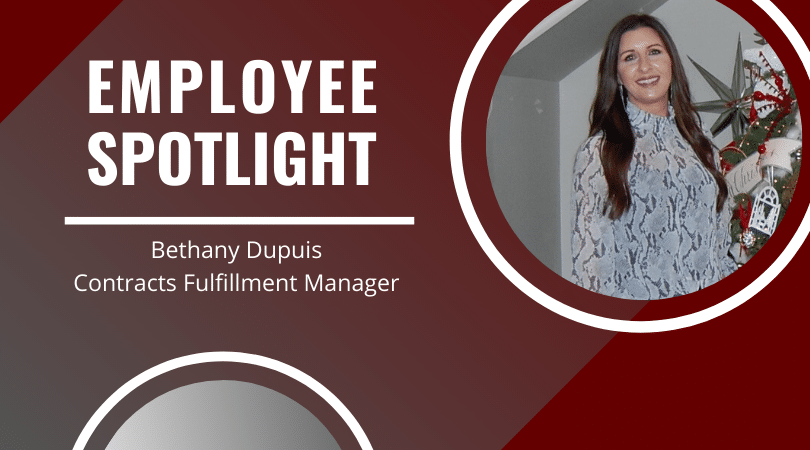 Meet our February Employee Spotlight, Bethany Dupuis! Bethany is our Contracts Fulfillment Manager at Supreme Integrated Technology. She has been with us for over 10 years and recently celebrated a promotion from Contracts Administrator. Congratulations and thank you for all your hard work, Bethany! We sat down with Bethany to get to know her a little better and highlight her passions.
What is your role? Briefly describe what you do.
"I am a Contracts Fulfillment Manager. With a focus on Government contracts, I oversee customer order fulfillment from beginning to end. I am responsible for capturing contract requirements, costs, products, and component sales in our ERP system. I am also responsible for training Contracts Administrators, Logistics personnel, and Client Service Representatives as well as other duties."
Who/what inspires you?
"Life. Waking up each morning is enough to inspire me to be the best version of myself."
If you had to pick one strength you bring to the team, what would it be?
"One of my greatest strength is attention to detail. I've always been a detailed oriented person in both the workplace and in my life. This strength is beneficial to my job because I have to review contracts daily and make sure we capture all the requirements so that we can make good profit."
What do you like to do in your free time?
"I love spending time with my family & friends. I also enjoy traveling, shopping, music festivals, summer days by the pool and cheering for the Saints (WHO DAT!)"
If I could learn how to do one thing, what would it be?
"I am currently interested in learning how to write in calligraphy. I love writing things in pretty handwriting so this would give me a new creative skill."
Where were you born?
"I was born in Lafayette, Louisiana. I have lived in Louisiana my entire life."
What's the best thing about your job?
"I truly enjoy all aspects of my job; from the work I complete daily to the people I work besides. I feel that I am working with professionals that I can learn from and will push me to take on new and challenging opportunities. I am treated with respect and given daily encouragement. I am honored to be working for such a great company."
What's been one of your proudest moments at EOHI?
"Over the past 10 years, I have been proud to grow with the success of the company and I have recently been promoted to Manager."
How do you define success?
"I believe success is defined by who you are and the person you aspire to be."
Where is your favorite place that you've traveled?
Santorini Greece! It was so beautiful, and the food was amazing. The best place that I have traveled so far. I was able to tour all the different cities within the island as well as take a boat ride through the Mediterranean Sea and swim in the beautiful beaches."