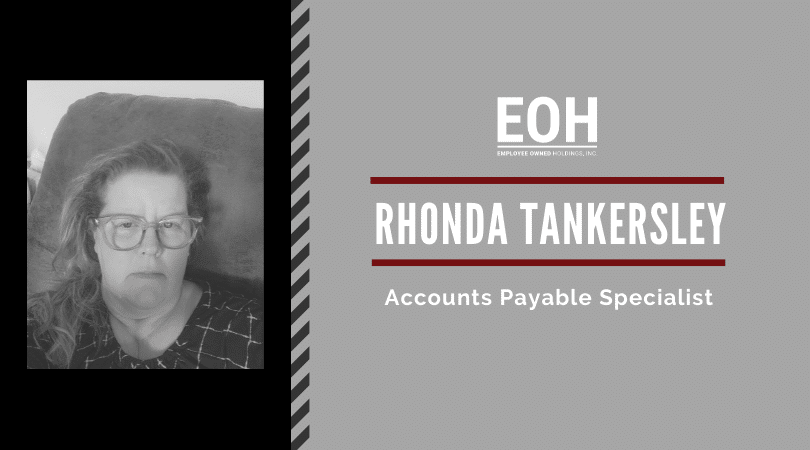 Meet our April Employee Spotlight, Rhonda Tankersley! Rhonda is a valuable member of our EOH accounting team and has been a part of our employee-owned family for 8 years. Let's get to know her better:
What is your role? Briefly describe what you do.
"I am the Accounts Payable Specialist. I do all aspects of the payables side, process invoices, weekly check runs, audits, etc. I'm always trying to make sure our vendors stay happy."
Who/what inspires you?
"The inspiration in my life was my Granny Moore. She taught me everything I know and to enjoy doing it. She always told me to enjoy and work hard at everything you do and once the joy is gone, move on."
If you had to pick one strength you bring the to team, what would it be?
"My biggest strength is the ability to stay calm and focused in stressful situations.
What do you like to do in your free time?
"When I'm not working, I love going on road trips with my husband. I also love having downtime with my daughter to just hang out and try her new creations that she cooks up in the kitchen."
If I could learn how to do one thing, what would it be?
"I would love to learn how to fly. I love being up in the clouds."
Where were you born?
"I was born and raised in Houston, TX."
What's the best thing about your job?
"The best thing about my job is the laid-back atmosphere."
What's been one of your proudest moments at EOH?
My proudest moment at EOH was the day they offered me my job. EOHI is such a great place to work – great people and a great environment. They really make you want to get up every morning and look forward to coming in and being the best you can be."
How do you define success?
"Success to me is walking out the door at the end of the day feeling like you have conquered everything you came to do. It doesn't happen often but when it does it's a great feeling."
Where is your favorite place that you've traveled?
"Hawaii is my favorite place. I love the clear beaches, ocean life, and all the small islands."